General Catalogue
Internal Radiant Heater
Radiant infrared heater equipped with the new special lamp with a Fast Medium-Wave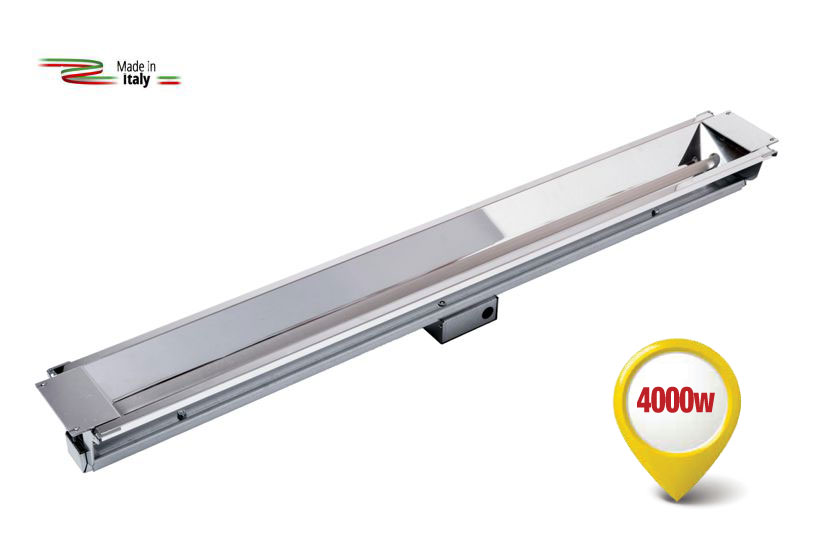 Radiant infrared heater equipped with the new special lamp with a Fast Medium-Wave
Model: MI-4000XL
---
TECHNICAL FEATURES:
---
Nominal power: 4000W
Supply voltage: 230V
Ampere/Phase Absorption: 10A
Specific power: 34.18 W/cm
Connection type: Three-phase without neutral
Degree of protection: IP24
Radiant tube length: 1080 mm
Dimensions (HxWxD): 151x1200x144
Weight: 2,9 kg max
Reduced AOR emission (D.Lgs.81/08)
Approved for installation at 90° from vertical (facing to worktop).
---
DESCRIPTION:
---
Special infrared heater equipped with an IRK lamp with a fast mediumwave. Interchangeable one-piece reflector body.
"SUPERMIRROR" aluminium reflector with a very high reflecting power with a thickness of 10/10.
Special IR translucent quartz lamp custom-built with a fast mediumwave, Teflon cable, and silicone glass fibre – reinforced body.
Optimised symmetrical distribution. Standard optic with a diffusing focal or a possible optic with a concentrating focal (upon request).
Holder with galvanised sheet.
Terminal box in a metal box.
Designed, built and assembled by hand entirely in Italy.
Stainless steel construction on request (AISI 316).
Wired with special type of cables resistant to high temperatures. Nickel/copper and teflon coating.
---
USE:
---
Radiant Heater for for industrial processes
Designed for indoor use inside the public works vehicles for remote heat transfer between two bodies with no contact. Product dedicated to the use in: IR tunnel, IR ovens, dryers, catalysts, paint-spraying booths, etc… Professional use for silkscreen printing industry, drying of plastisol, resins, paints, adhesives, leather industry, bonding, softening, drying, printing, drying of marble, tiles, paints, microgranules, technopolymers, textiles, metals, leather, plastic products, cooking and food preparation, maintenance of food temperature, carbon fiber processing.
---