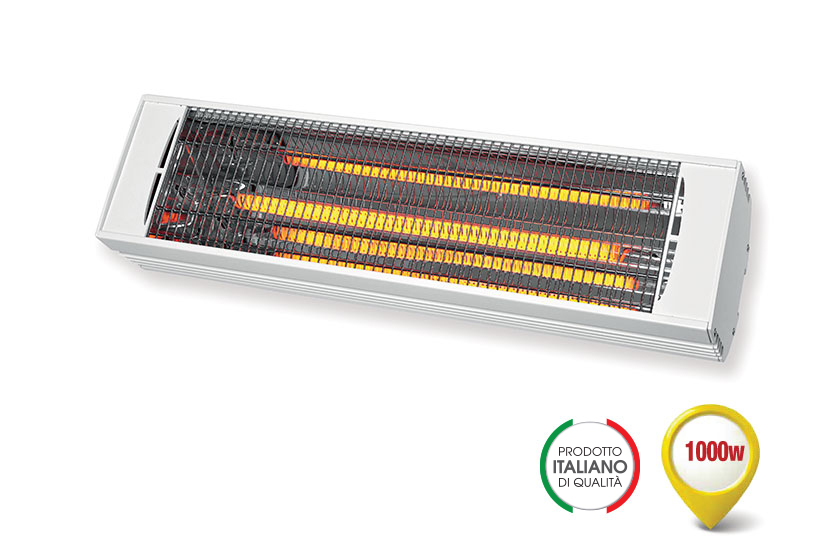 RADIANT INFRARED HEATER WITH A FAST MEDIUMWAVE
Model: SOL 1000 CARBON
---
TECHNICAL FEATURES:
---
Nominal power: 1000W
Supply voltage: 230V/240V
Ampere/Phase Absorption: 3,5 A
Connection type: Single phase
Degree of protection IPX5
The standard colour is White Ral 9010; other colours are available upon request
Dimensioni (AxLxP): 130 X 600 X 166
Weight: 2 kg
Reccomended installation height from the floor: 2.4 m
Reccomended angle from the vertical: 30 – 45°
Minimum distance between the heater and the ceiling: 0,2m
Reduced AOR emission (D.Lgs.81/08)
---
DESCRIPTION:
---
Special infrared heater equipped with an IRK lamp carbon fibre.
Interchangeable one-piece reflector body. "SUPERMIRROR" aluminium reflector with a very high reflecting power.
Double-lobe thermal emission.
Embossed/smooth epoxy powder coating (suitable for outdoor use).
Designed, built and assembled by hand entirely in Italy.
Extruded aluminum body alloy 60/40.
---
USE:
---
Designed for internal use at short distances too.
Ideal for warming residential environments from 10 to 16 m2*
Reccomended installation height: 2.4m*
Ideal product for: installation under umbrellas; smoking zones heating (1 person);
containers; campers; lightweight and itinerant structures (gazebos, tents, pergolas, verandas);
heating of offices, bar, restaurants and residential buildings.
---