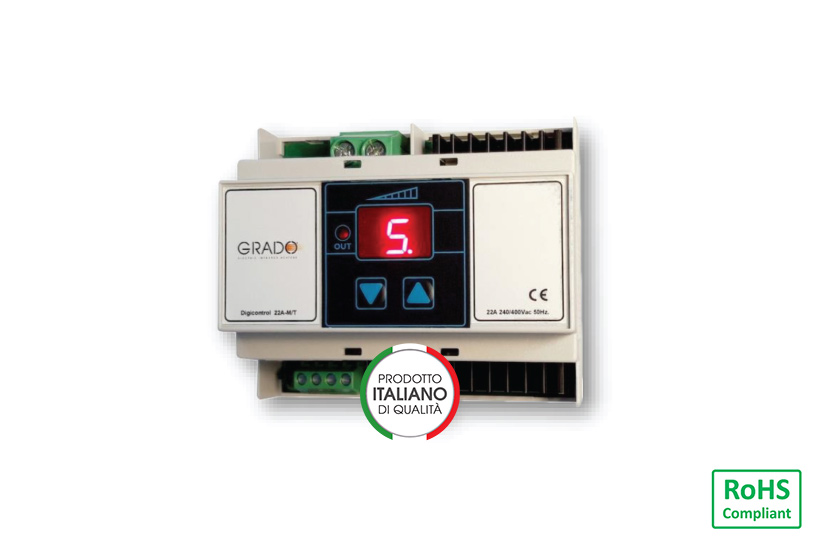 DIGICONTROL
Model: 22A M/T
---
TECHNICAL FEATURES:
---
Supply voltage 240vac 3va 50hz
Static relay 22a 230/400vac 50Hz (as in the graph 1).
Triac 40A 800V i2t 10mS 880°.
Internal fan 5V dc 0,15Amp.
Range : o – 100% 20 steps. LINEARISED INTO AN ELECTRIC CURRENT.
Saving settings to E2PROM.
External contact to enable the consent or the thermostat. Awaiting consent only the point on the display appears.
In case of visualisation of the point on the display after consent, it is possible that there is lack of voltage on the power line or lack of the load to control.
Dimensions : 105 x 70 x 90mm

Graph 1 – Thermal curve Ambient Current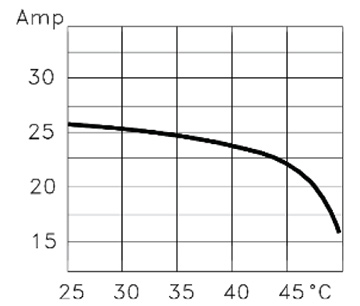 ---
DESCRIPTION:
---
Regulator with two programmable control systems, phase angle or fast zero crossing with phase angle preheating.
Incorporeted static relay 22A at 45°. Suitable to drive 240 and 400Vac single-phase loads.
Particularly suitable to control infrared lamps with medium and short waves with initial strong current absorption.

TWO FUNCTIONS :
1) Soft start phase angle 300ms and auto soft start for temporary lack of voltage on the power line
Or
2) Fast zero crossing with phase angle soft start preheating, holding time of 5 sec. and fast zero crossing with cycle time of 400ms.
---
USE:
---
Easy connection, the Digicontrol 22A M/T sets the output power in percent with 20 steps by simply pressing the buttons «UP » and « DOWN ». Particularly suitable for shortwave heaters.
It ensures greater longevity of the infrared lamp thanks to the soft start.
---
PROGRAMMING METHOD:
---
To set the regulator with phase angle or fast zero crossing functions, perform the following procedure :
bring the value to zero on the display with the DOWN button, press UP by pressing DOWN, a line will appear on the display, a F will appear (Phase angle), by pressing DOWN again a P will appear (Zero crossing).
With the DOWN button you can alternate the F with the P.
To confirm, press UP. The device will restart automatically saving the function on E2PROM.
---
METHOD OF USE:
---
To simultaneously control one or more regulators, it is recommended to feed the power first (clamps 1 and 2) and the control (clamps 3 and 4) with a safety switch. Then enable via external contact (clamps 5 and 6). At this point the control will perform the soft-start to position itself on the last set percentage.

IMPORTANT NOTE: For switching off, first open the enable contact, then open the safety switch.

N.B. IN THE ELECTRICAL PANELS WHERE REGULATORS ARE PLACED AN ADEQUATE HEAT EXCHANGE MUST BE GUARANTEED, USING FANS IF NECESSARY IN A WAY THAT THE TEMPERATURE INSIDE THEM DOES NOT EXCEED 45°C.
---
IMPORTANT APPLICATION NOTES::
---
All electrical connections must be carried out by specialised and trained on electrical risks. In the electrical panels where the devices are applied must always be present a magnetothermic switch with differential of 0,003 for short circuit and leakage protection.
All power connection must be made with wire cross-section of 2,5mm2 for currents up to 10Amps and wire cross-section of 4mm2 shall be used for loads over (between 10 and 22 Amps). 30 days after initial start-up check the closing of all terminal bloxes, in particular POWER terminals, for electrical safety.
---
DOWNLOAD:
---
---