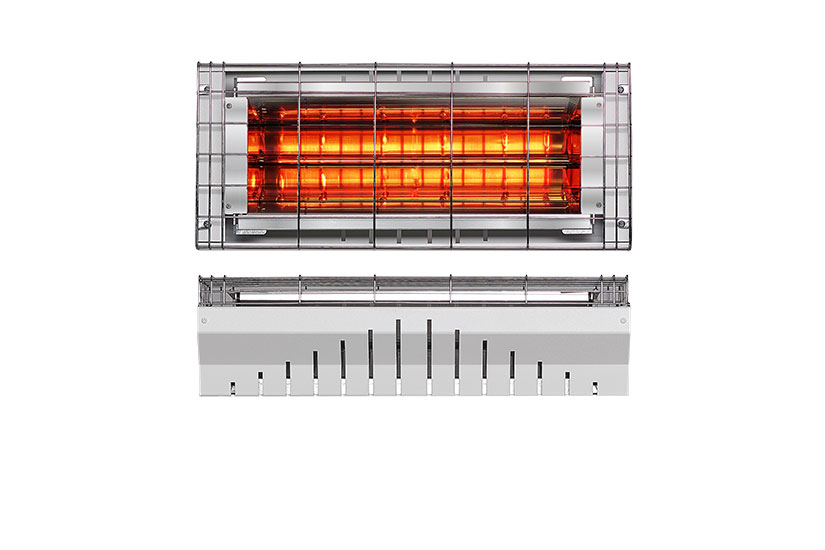 RADIANT INFRARED HEATER WITH A SHORTWAVE
Model: GH-1500
---
TECHNICAL FEATURES:
---
Nominal power: 1500W
Supply voltage: 230V
Ampere/Phase Absorption: 6,5A
Connection type: Single phase with ground connection
Degree of protection IP24
The standard colour is White Ral 9010
Dimensions (HxWxD): 180x420x215 mm
Weight: 2,5 kg
Installation height from the floor (varies according to the angle): Min 2,6 m
Recommended 2,9 m – Max 3,8 m
Recommended angle from the vertical: 30 – 45°
Recommended distance between the heater and the ceiling: 0,5 m
Safety distance from the heater: 1,8 m Reduced AOR emission (D.Lgs.81/08)
Approved for installation at 90° from vertical (facing the floor).
---
DESCRIPTION:
---
Special infrared heater equipped with an IRK lamp with a shortwave.
Interchangeable one-piece reflector body. "SUPERMIRROR" aluminium reflector with a very high reflecting power. Halogen IR lamp custom-built with a shortwave, Teflon cable, and silicone glass fibre – reinforced body.
Optimised symmetrical distribution.
Standard optic with a diffusing focal or a possible optic with a concentrating focal. Designed for internal use (churches, gyms, industrial premises, tensile structures, recreational spaces, etc.).
Reccomended for discontinuous heating. Fully equipped with electric cord, lenght 3 m and Schuko plug (Mod. GHE ONLY).
Embossed/smooth epoxy powder coating (suitable for outdoor use and scratchproof). Designed, built and assembled by hand entirely in Italy.
---
USE:
---
Designed for internal use at short distances too.
For churches, gyms, industrial premises, machine shops, workshops, tensile structures, sports Palaces, recreational spaces, warehouses, showrooms, passageways for railway stations, shopping centers, airports, indoor playgrounds, coffee shops, restaurants, dehors.
Professional use for greenhouses, poultry farms, heating for animals (kennels), workstations, shooting ranges, paddock/box, racetracks, sports areas, rental, food heating.
---
DOWNLOAD:
---
---