EFFICIENT AND SAFE HEATING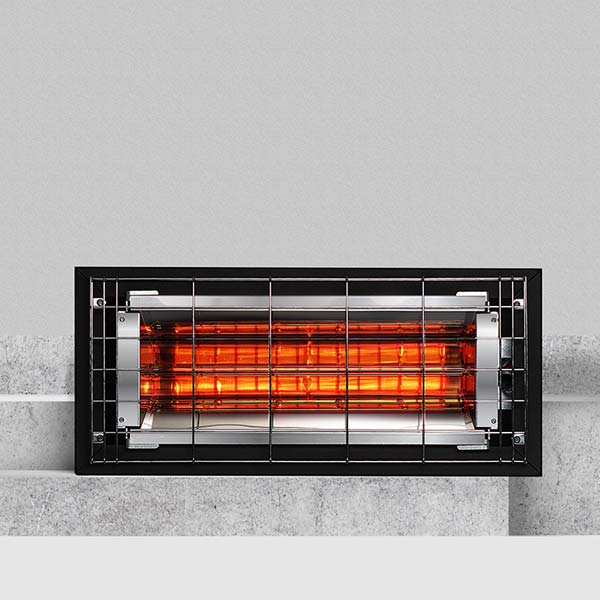 Through special reflectors, infrared heaters emit waves directionally, avoiding heat dispersion where it's not necessary. For this they allow a significant energy and economic saving, especially in large spaces as places of worship, gyms, canteens, sheds, stores, gazebo, supermarkets, restaurants, etc. They aren't affected by cold air exchanges thanks to cracks, doors, etc.
They only use electricity and therefore they are much safer than other technologies that produce heat through combustion of gas, wood and derivates, liquid or solid chemicals. They don't require particular masonry, costs of installation and/or maintenance. Minimum amount of space in relation to the power and efficiency of heating. It's possible match infrared technology to photovoltaic systems for a further reduction of management costs.
FIELDS OF APPLICATION
INFRARED HEATING
SPACE HEATING:
INDUSTRIAL SECTOR:
Sheds
Poultry farms;
Hangars;
Machine shops;
Heating for workstations or portion of sheds;
Heating for boxes;
FOOD INDUSTRY:
Sheds for food industry in portions only or cargo handling areas;
ZOOTECHNICS:
Heating for horses, chicks, dogs and all kinds of animals in any weather conditions; heating for zoo and circus.
AUTOMOTIVE INDUSTRY:
Heating for workstations in the public and private transport industry.
TOURISM, HOSPITALITY, HORECA SECTOR
Heating for coffee shops and restaurants;
Outdoors;
Indoors and outdoors discotheques;
Themed playgrounds;
Christmas markets;
Musical events;
Exhibition stands;
Fashion shows and night events;
Swimming pools;
Bathrooms and spaces in the winter resorts (ski resorts too);
Dehors;
PLACES OF WORSHIP
Churches;
Sacristies;
Oratories;
HOUSING SECTOR
Verandas;
Garages;
Cellars;
Winter gardens;
PRODUCTION PROCESSES:
AUTOMOTIVE INDUSTRY:
Automotive paints drying;
Paints furnaces for motor vehicles and motorcycles;
Industrial body;
FOOD INDUSTRY:
Food cooking in the food industry: meat, roasts, "kebab", "arrosticini" (skewers);
Maintenance of cooked food temperature;
Chocolate processing;
Very immediate temperature rise of sweets and sugar;
Fruits and vegetables drying ;
CONSTRUCTION INDUSTRY:
Cements polymerization and plaints drying in the construction industry;
Marbles drying;
Cement products drying;
Work equipment drying;
TEXTILE INDUSTRY:
Silkscreen printing: inks drying (plastisol);
Quick colour fixing on the fabric;
Silkscreen furnaces
Flash hoods; intermediate hoods
CERAMIC - MARBLE:
Tiles precooking;
Marble blocks or slabs drying;
Tiles or ceramic material drying;
CARPENTRY:
Metal sheet preheating processes for subsequent processing;
Metal processing
ZOOTECHNICS:
Horses drying
Heating for cattle, pigs and animals in general;
Chicks breeding
AGRICULTURE:
Radiation and greenhouse effect in organic crops;
Creation of the ideal climate for greenhouses, plants or crops;
INDUSTRIAL PRINTING PRESSES:
Heat renovation for printing presses cold start;